Entries
Dramas
I'm so gonna have a drama-marathon after O's. I even make a list of what show I'm going to watch. I'm gonna add some more((:
Rewatched:
Gokusen 1
The story of a young, idealistic teacher who enters Shirokin Gakuen with hopes of making a difference in the students' lives. However, Yamaguchi Kumiko (
Nakama Yukie
) is in for a rude awakening when she finds that she will be the homeroom teacher of 3-D, the hardest class to maintain in the school. The students have multi-colored hair, sloppy uniforms, and show absolutely no respect to her. The leader of the class, Sawada Shin is lazy but bright and shows some interest in Yamaguchi when he notices that she is very different from other teachers. The students try to bully her to make her quit, but their attempts don't get them very far.
What the class and the rest of the school does not know is that Yamaguchi Kumiko is actually the 4th generation heir to the Ooedo Group, a notorious yakuza clan. Even though her family would like her to take the title of Ojou when her grandfather dies, they have accepted the fact that Yamaguchi would rather be a teacher.
Eventually, the students learn to respect their quirky teacher because of her devotion to them, and even give her a nickname: Yankumi.

Gokusen 2
Same as Gokusen 1 but different cast((:
GOT KOIKE TEPPEI of WaT
Hannah Montana
Hanazakari no Kimitachie
The drama is based on the popular
manga
of the same name by Nakajo Hisaya, which has already been dramatized in Taiwan. Horikita plays the protagonist Ashiya Mizuki, a Japanese girl in the U.S. who one day sees the young athlete Sano Izumi (Oguri) compete in the high jump on television. She begins to idolize him, and decides to move to Japan to attend the same school as him. However, Izumi goes to an all-boys school, so Mizuki disguises herself as a boy to achieve her dream of being with her idol.
Hana Yori Dango
Not the movie but the drama!
Kisarazu Cat Eye
Twenty-one year old former high school baseball player, Kohei (nickname: Bussan), learns that he is dying from cancer. He is told that he only has six months to live, and decides that he wants to do something daring and risky. He proposes to five trusted members from his former baseball club that they form a ring of cat burglars that would steal from those who commit crimes. His friends think it odd, but feel they cannot turn down a dying man's request. With only six months, how much could they do anyway?
Including the movie. BAMBI~~
Marathon
A remake of the 2005 Korean movie "
Marathon
", this special is about an autistic boy guided by his mother and his coach in training for a marathon.
Nino~~
Maou
This drama is a remake of the popular suspense drama
The Devil
that was aired in Korea last year. Ohno Satoshi will be playing the role of a two-faced lawyer, one of which is a kind hearted soul and the other who is plotting revenge, using his brilliant mind, on the person who killed his relative. On the other hand, Ikuta Toma will play the double lead role of the man, who has become a detective due to his dark past, who is pursuing the mysterious series of murders and fighting against the devil (maou).
Mukodono
Comedy-Drama starring pop group TOKIO's
Nagase Tomoya
and rising female actor
Takeuchi Yuko
. Nagase stars as an icy-cool pop idol, Sakuraba Yuuichiro, who is actually a happy go-lucky smiling guy/idiot. After falling in love with Sakura (Takeuchi), trouble ensues after agreeing to marry into Sakura's family (she only has 3 sisters). Of course, more trouble follows trying to hide his marriage from his adoring/rabid fans. A light dorama worth watching.
Because Aiba in it!!
NaNa
Nana Osaki
is a
punk
singer who wants to debut with her band Black Stones (BLAST for short). Nana was the lead vocalist in their old band with Ren, and they lived together as lovers. When Ren is offered a chance to debut in
Tokyo
as a replacement member of the popular band Trapnest (Tra-Nest for short), Nana chooses to cultivate her own band, after Ren leaves her and BlaSto for Trapnest. She leaves for Tokyo at the age of twenty, and start her musical career.
Nana Komatsu, the other Nana, is called Hachi (after Hachikō) as she has weak mental characteristics that resemble a puppy. With a habit of falling in love at first sight, Hachi has always depended on other people to help her. When her friends and then boyfriend leave for Tokyo, she decides to join them a year later after having saved enough money.
Nana and Hachi meet in a train by chance, both on their way to Tokyo. After a string of coincidences, they come to live together in an apartment numbered 707. Despite having contrasting characters and ideals, the Nanas like and respect each other.
While the Black Stones begin to gain popularity at live gigs, other issues need resolving, especially in the areas of romance. The story of Nana revolves heavily on the romance and relationships of the two characters as one seeks fame and recognition while the other seeks love and happiness.
Stand Up
Four schoolboys find themselves the last virgins left at school. During the summer holidays, a girl they knew as children 11 years ago, moves back to the neighborhood. Despite their childhood attraction to her, they realize she is a mere shadow of the "princess" they all thought they knew. This story of summer - love, friendship, school, family, the hypocrisy of adults, complications of life, experience and failure is set in an everyday shopping district and shows the clumsiness of children who have developed a little later than their peers.
Shohei~
Sukoshi Wa, Ongaeshi ga dekitakana
"Ewing's sarcoma is different from cancers of the same kind. It occurs in the bones and flesh, and spreads through the blood. It is a malignant tumor common in children below 10, and in teenagers. It is rarer than cancer..."
Kitahara Kazunori was diagnosed with Ewing's sarcoma in the fall of his second year in high school, and thereafter spent a year and 10 months battling the disease. Although he studied hard for the university examinations and was successfully admitted to his first choice, [the prestigious] Tokyo University, he only managed to visit it for a day before passing away.
After that, last January [i.e. 2005], Kazunori's mother compiled the thoughts he had left behind and published it as a book, and it was adapted into this drama.
Even as Kazunori had to fight his serious illness, he received support from his friends, school teachers and family members, and had warm relations with many people. This drama illustrates the 1 year and 10 months young Kazunori persevered together with the people around him.
Yamada Taro Monogatari
Yamada Taro, a freshman on a scholarship at Ichinomiya Private Senior High School, is high-achieving, strikingly handsome, and truly athletic and seems perfect. But he is actually extremely poor. The story humorously portrays Taro, who tackles problems that occur because of his poverty, and his six younger brothers and sisters.
Mimura~~~~~~
Watching:
Tahara Mika is an ordinary high school girl. One day, out of the blue, one of her classmates kisses her. His name is Sakurai Hiroki also known as Hiro. Hiro stands out because of his bleached hair and piercing. Apparently he is also dating someone. Mika is shocked and hurt that her first kiss had to happen this way. She desperately tries to forget about it. Then, her friend tells her that she should find somebody else and suggests Tatsuya, another boy in their class. However, before she even realizes it, Mika is already in love..
Gokusen 3
Same as Gokusen 1 but different cast.
Hachimitsu to Clover
Honey and Clover
follows the lives of five college students and their love triangles
Last Friends
Last Friends
tackles issues that afflict the current generation. Michiru's mother has brought a man back to their home and she is bullied at her workplace where she works as a beauty parlour assistant. She starts cohabiting with her boyfriend, a good young man who works at the Child Welfare Division and the only person who can give her emotional support, but ends up the victim of domestic violence and becomes fearful of love. The boyishly charming Ruka was a classmate of Michiru's in junior high school. She has performed brilliantly as a motocross racer and aims to win the national championship, but as the story progresses, a deep worry that she can neither confide in her parents or close friends grows evident. Takeru is a hair and makeup artist acquainted with Ruka. He is a good confidant to females due to his kindness and perceptiveness, and finds himself attracted to Ruka but has a phobia of sex as a result of a past trauma. The three of them become house mates and through their associations with others, gain the capacity to be positive about life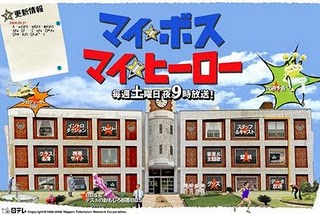 My boss, My hero
Sakaki Makio, also known as "Tornado" is a tough 27-year-old high school drop-out. By academic standards, he's pretty dumb. His father decides to force Makio to return to high school to receive his diploma and he asks an old friend who happens to be the principal of a nearby school to admit Makio. If Makio doesn't graduate, the position of boss will be given to his younger brother, Mikio. Furthermore, he must pose as a 17-year-old during school hours and in the presence of any classmates or teachers outside of school. If his cover is blown, it would be the end of his high school career as well as his hopes to become boss. Things start out rough and tough as Makio's violent temper is tested. As the lessons and days go by he learns there is much more to school than just tests and studying.
Special A
Hikari Hanazono has always been second to Kei Takishima. When they were six years old, their pro-wrestling loving fathers introduced them to each other. Assuming that she was the best in wrestling, young Hikari challenged Kei to a wrestling match only to be thoroughly defeated by him. Ever since that fateful incident, Hikari swore to beat Kei in school grades, sporting events - anything. To do this, she has enrolled in the same school as Kei since elementary. Now she attends Hakusenkan, an ultra elite school, that costs her carpenter father a lot of money. Hikari and Kei are the top two students in the school, with Kei holding firmly to that number one position. While Hikari considers Kei to be a rival and important friend, she is completely unaware that Kei loves her. The story primarily focuses on Hikari and her constant attempts to defeat her one and only rival, Kei, and how she finds love in their rivalry.
Rookies
The story revolves around a high school teacher and coach that tries to reform delinquents by having them join the baseball team.
Shirota Yu is inside~!!
Zettai Kareshi
Robot maker, Kronos Heaven, finally develops "Night Tenjo", the perfect male humanoid programmed to be devoted and completely loyal to his lover. The company chooses temp worker Izawa Riko to take part in a 5-day free trial. At first, Riko only sees Night as a household appliance. But when she finds out how deep Night's devotion to herself is, Riko finds herself falling in love with him. Joining the love triangle is Asamoto Soshi, a distinguished young executive at her company who has feelings for her.
My list will still go on~~
Coloured = Arashi drama!!
Pictures and Words are not mine!!
Comments
Post a comment
Trackbacks
Trackbacks URL

http://leslettresdeciel.blog131.fc2.com/tb.php/310-83eb3a2e