Entries
Maou
Ohno was rumored to be fliming a drama after his butai and he dyed his anime hair back to black because of this drama
& at 6:20am with a BIG morning surprise from emily.
His going to act in a new show. & minna its true.
I've been wanting a show with ohno in it as the lead actor.
Kami-sama i love you so much <3333333
You give me the best present ever this May (((((((((((:
Ohno is a drama and with what toma in it.
This summer and this is a year for Ohno & Arashi
Freestyle, exhibition around japan, butai after butai and now a drama.
------------------------------------------------------------------
Sypnosis
When Homicide Detective Toma hit a dead end in his investigation of two seemly unrelated murders, except for the Tarot cards left behind at both crime scenes, he sought help from a woman with psychometry ability (Don't know who yet). She revealed that the killers were different in each murder, but the victims were chosen for their connection to a death of a high school boy. Later, the cases proved to have one more thing in common: the suspects have the same defense attorney, Ohno
Ohno defense for his clients severely shaken Toma conviction to catch the Tarot Card mastermind. Toma was reminded that years ago he had killed a high school classmate in a fight. He was acquitted of all charges and began his life anew. Now, someone has came back to revenge the boy's wrongful death by killing those who got him off.
-------------------------------------------------------------------
Full translation of Sanspo article :
http://aatash.livejournal.com/284648.html
Producer Takahashi Masanao explains the reasons for this casting: "He's known for showing his gentle and slightly spaced out character in variety shows but, there should be many who have noticed the mysterious, unique charm hidden deep inside. To have him play the role of a lawyer who has the face of a cruel, vengeful demon = devil under the face he shows to others will, without a doubt, make it far more frightening."
For the sake of this role, Ohno has cut his hair and dyed it black. He says with great spirit, "As it's my first drama series I'd like to have fun acting in it but, because it's such a special setting, it looks like I may turn stoic in my daily life too (laughs). I've never taken revenge before, nor have I considered it. It's a tough role but, I will do my best to respond to everyone's expectations."
credits: sophie
----------------------------------------------------------------
Ohno & Toma (they look so good with black hair. *Nose Bleed*)
Ohno and his black hair <3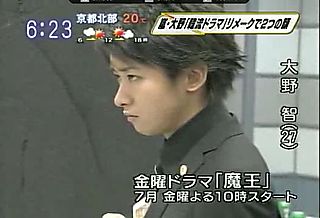 credits: emily
awaiting...
Comments
Post a comment
Trackbacks
Trackbacks URL

http://leslettresdeciel.blog131.fc2.com/tb.php/250-e0b3d5a5