Entries
2003-2004
My favorite JE countdown so far is still
2003-2004
. It is filled with JE member ai (:
At first I wanted to do a post about "The many faces of Sakurai Sho" but I got to go around screencap alot of stuff (: I still love this picture. The lights are really pretty.
This is the part when Tokio sang "KANPAI FAITO!" and the whole crowd gets really high!
Inohara shouts "TOKIO!"
Taichi x Koichi
Nagase as usual harrasing someone as this time is an innocent security guard who just happen to be there.
Taichi finally got hold of Nino :D
Koichi X Nagase.
Love them.
Wanna guess this pairing?
"Gussan" was a nickname given by Aiba.
Taichi falling.
Good morning Aiba!
& Sho came with him. Don't make me scream at the thought of what they were doing inside the car.
Good morning otousan!
Taichi trying to act to be more professional which he totally failed while trying to get into Tokyo Dome. The doors of Tokyo dome is not the normal kind but the one that turns. Those kind of door you see in front of a hotel.
Nino to the rescue on trying to stop Mabo from raping Go.
Taichi said Inohara patting was like how a mom would pat her womb. The sound of it is exactly what the baby would hear. Being comfortable with this patting, Taichi fell asleep.
PART 2
OKAMOTO KENICHI!
HIGASHIYAMA NORIYUKI!
Sho waking up from a nap.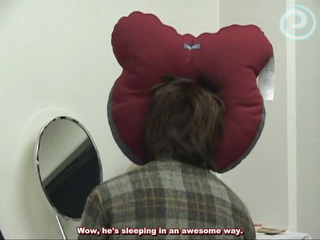 Ohno commenting on him sleeping in an awesome way.
Sho scolds Tackey, Aiba and Jun for being too noisy.
Tackey scolds back by saying that his the one who need to calm down cos what his wearing on his hear doesn't seem convincing when asking people to calm down.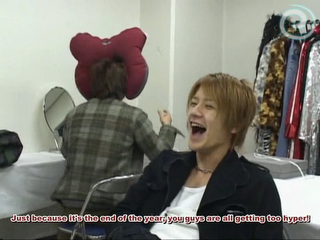 Tackey laughs because when Sho said "Because it's the end of the year, you guys are going hyper." Tackey then replied on how there are some people who are like this.
Yama-papa, bring me to the beach one day!
I wish he is still single. He looks awesome even his hair say so.
父ちゃん腹減った?私も
Arashi concert costumes!
Sho shaking hand with Kame. At the corner of his eyes, he could see Jun chatting happily with Yama-pea.
Sho then stare at Yama-pea.
Poor guy.
Sho talks about this costume is from their First concert in 2000. It's been 3 years and they haven't grown abit. 嵐成長なし
Tousan comes in a bike that makes everyone around him laugh while Taichi scolds him "OLD MAN" He will always be my old man~
Arashi singing "Daybreak" with Okamoto-senpai. He was having so much that even Higashiyama-senpai could feel the love~
かっこいい!さすが私の父さん!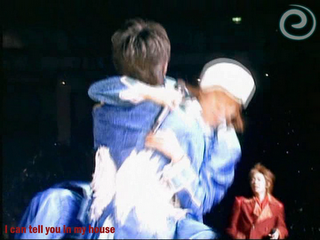 JUMBO!!!!!!!
Sato Atsushiro of Hikaru Genji.
Okamoto Kenichi of Otokogumi
And of course Higashiyama Noriyuki.
Last but not least, TOKIO!
I love you too, JE!
PART 3 - Backstage
As they welcome 2004, it's Tokio 10th year anniversary!!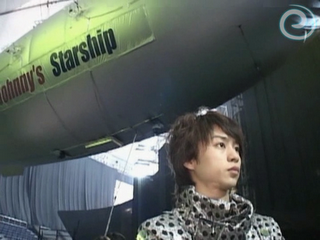 Sho part 1
Sho part 2
Sho part 3
and trust me, he didnt move a single bit even when the thing flew pass him.
Put me in here, the next thing I will be on the floor.
Akasaka-kun of Hikaru Genji
I want this shirt!!!!!
Nagase 兄ちゃん split his pants! and a dai-senpai saw it!
Comments
Post a comment
Trackbacks
Trackbacks URL

http://leslettresdeciel.blog131.fc2.com/tb.php/20-fb7a6a46