Entries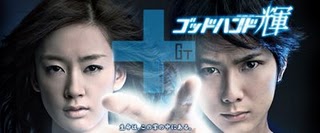 GODHAND TERU!
The story revolves around a young man named Mahigashi Teru. When he was young, his father, a brilliant surgeon, died in an accident, but not before saving Teru's life. As a result, Teru also aims to become a great surgeon like his father, devoted to never letting a patient die. As a clumsy newcomer at his hospital, he seems to be an unlikely savior. But whenever a patient's life is in danger, his true powers emerge in the form of his "god hands," allowing him to successfully perform even the most difficult operations. --Tokyograph
XDDD
This drama is like so GOOD! Lyn said she watched it and said it was good but I wasn't really interested in it. & then I watched The Quiz Show Episode as all of you might not know that the guest for Episode 6 was known as Godhand and Kamiyama was talking about him directing this drama called "Godhand Teru" and I was like, 'WOW!" So what? NTV helping TBS in advertising for their dramas? But I can understand why, really! (Will post about that later before I get out of point :P) & I never cried so much for a drama like since 1 Litre of tears. Okay pause, I think I cried more in here. It's like everytime Teru save a life, it's so touching. Especially Episode 4 when they were doing OP on the fetus inside the mother's womb. I was already crying when her heartbeat stop and at the second I saw the baby shaking hand with the director, I brokedown. It was sooooo touching T.T The fetus hand was so tiny and it wasn't fully developed too! & at the last episode I knew he would come back and save the company!!!

HIRAOKA YUTA is loved. He is so loved by me becuase his TERU((: I'm betraying my husband Toma, my boyfriend Tsumabuki, my baka idiot Sho-chan to love my newest pet yuta-kun. CLUMSY TERU they call him. When I saw him during OP I seriously thought I was watching Power Ranger. HAHAHA like he was gonna change into something in the end he went like naked and those animated flowing objects around him. I was wondering, who in the world could made that kind of mark he has on his chest. It's not even human hands anymore.
I always thought that Mizukawa Asami was pretty ever since I saw her acting as Chu's wife in Pikanchi Double. BUT I guess she grew older so she wasn't looking that pretty here. HMM...I'm sure she's very compatible with Sho I probably would kill myself if that happen Probably would support them anyway. BUT...

What is happening to the Japanese entertainment? Ever since Maou (No i don't blame Maou, I'm biased!) the rating are extremly low! IT'S GOLDEN TIME 10PM SLOT ISN'T IT!? Okay maybe "Ryusei no Kizuna" was an exception since the book sold really well and people were excited for the drama. Then it dropped because the drama wasn't as good as the book. After that followed by Love Shuffle which did badly, I mean I thought it was okay and I don't have really high expectations for dramas. I only watched it for the cast! MATSUDA SHOTA, DAIGO, KARINA!! Then Smile did really bad too!! I was thinking Smile did really bad becuase it was about Japan racisim. & tons of the non-JE drama had bad ratings too!!! I guess this is moment when Japan entertaiment will do badly due to the recession. When will it restore to the time from 1980-1999? YES, SO MYPAPER DON'T ANYHOW CRITICIZE JOHNNY FOR LOSING IT'S REALM IN THE ENTERTAINMENT WORLD! >.<
♥♥♥♥♥♥♥♥♥♥♥♥♥♥♥♥♥♥♥♥♥♥♥♥♥♥♥♥♥♥♥♥
Comments
Post a comment
Trackbacks
Trackbacks URL

http://leslettresdeciel.blog131.fc2.com/tb.php/157-d7b0d9bd