Entries
Hi, Matsu!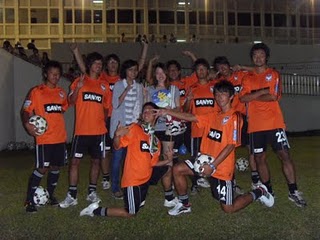 I WENT XD and bang into one of them (:
crushing on MATSU! hehe. His beside me. Nao is beside me and Mpark is in front of me and Kishi is i dont know where!
/edited to make things more specific.
Let me tell you my encounters on how I meet Matsu, Nao, Kishi and Park.
Waiting for the performance to start we were standing somewhere. Right below us, we spotted were Soccer members from the ALBIREX NIIGATA SINGAPORE FOOTBALl CLUB. When you spot an ikemen, aim at him :P Julia spotted Nao, Minty spotted Park and I spotted MATSU! The fun all started when Julia started saying the rest of the members who were beside us "帅" (handsome). All of a sudden, this guy turn around and look at us strangely. So I told Julia can we don't use Basic chinese..? It will really shift their attention to us. And to not distract Nao we decided to call him "Xian Zai" Nao sounds like 'Now'. & 'Now' in chinese is 'Xian Zai'. Somehow we started laughing and Minty's Park keep on looking up. Then, this 2 girls went up to them and ask whether they could take a picture with them so when the coach said sure we shouted "WA LAO!!" really loud (except me lar). & the members quickly look up and see what happened. HEHE. Julia started complaining that she wants to take a picture with them but she doesn't dare. So, i had to go with her, leaving Minty alone. Julia kind on stammered when asking the coach for a photograph. At first I was reluctant, but seeing Matsu i had to! Knowing Matsu was behind me, I was slightly shaking and then at the corner of my eye something was distracting me and it was someone hand shaking really hard. After the photo the coach said a very nice "Xie Xie" and we all got messed up so I couldnt find out who was shaking. When we went to find Minty, she asked whether Julia stood beside Nao or something like this. She saw the picture and Nao was standing behind me and that when I know it was Nao's hand. (Enough of Nao) After us, alot of people also went to take pictures with them. The coach was shouting "IKEMEN IKU YO~" It definetly suits them XD
I might be going to Jurong east stadium with Yanting next week too see them rehearse. This lady hor, she's such a busy women lar. We wanted to go this thursday but they are having a competition with Home United FC at 7:45pm and busy women can't make it evening time cos she's meeting a friend for dinner at town. She has a lot to do. Yanting, I hope we can meet up before you have to go for attachment for 5 months!! If not, the next time we meet up, each of us have to bring a cake for Sho's darling birthday .___. If yanting cant make it, who wants to go with me to watch the match this thursday?? Any takers? If not, the rehearsals are okay too unless you wanna reach there at 9+10. LITING WANNA SEE MATSU :3
Natsu Matsuri (Summer festival) was happening as usual, though every year they've been doing the same stuff except this year they add WARAKU. Last year, it was raining so badly thats why they had to shift the performance in the hall but it was cooling. This year the temperature is EL NINO! At least we get to watch the performance in the open field. I spotted alot of friends this year not like last year. Thankfully I was not wearing the yukata but after Haylee told me she bought her yukata in Japan tempts me. That's only possible when I go to Japan *pray* :x At least I had alot of fun spending with the Japanese kids. We were going around like pervertic old ladies looking at cute emo japanese boy. & I SUCCEEDED
(this word is confirm spelt wrongly :P)
IN 'YOYO'. For once, I was really happy. But I failed the second time ): This is the result of winning when you have done it twice and failed twice.
There was this incident when we were standing somewhere, someone beside Minty said 'Arashi' so Minty told me 'Arashi eh!!'. I turn around and saw the two girls taking picture with this boy who has a huge "ARASHI' kanji on his shirt. Reki saw them too! Turn out the 3 girls beside us were Arashi fans =D When the boy came back we quickly took a picture of him. The sister had a Sho picture behind, the brother had a Ohno picture behind. Both with Time concert pics mash in! Do you know how honoured I felt. The whole family were ARASHI FANS!!! I saw the HYDF uchiwa too, someone carrying a Ohno uchiwa. Ohno you're so popular!!
Reki said he saw someone who look like Sato Takeru and there was words flying around someone look like Toma :O Kami-sama, now wont you turn back time?
Tired T-T
Comments
Post a comment
Trackbacks
Trackbacks URL

http://leslettresdeciel.blog131.fc2.com/tb.php/108-e42c2acc